Waiting for a movie can be like waiting for Christmas. The anticipation builds, you count down the days and then before you know it, it's all over. That's what Miss Representation was like for me.
I first saw the trailer back in May this year and straight away I wanted to watch it. Since it had no theatrical release I had to track it down on i-tunes US (or you can order the dvd online). Alternatively you can host a screening with a panel discussion. Either way you have to hunt it down – finally I did.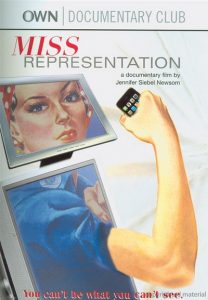 Premiering at Sundance in 2011 Miss Representation is a documentary that examines the depiction of women in the media and the knock on effect it creates politically. It talks to a lot of what we already know about our poor representation but takes it to the next level when looking at women in government.
I expected a lot from this film and it does deliver. But if I were to be honest, I would call this film Miss USA. The view it takes is very much from the perspective of women in that country and is full of US statistics. While that does not necessarily distill the arguments being put forward, there were moments I felt a US audience's acquired knowledge gave clearer context on certain issues.
It has feminist academics, women and men in politics and the media. While I really enjoyed the intelligent discourse they were engaging it was the views of teenage girls that struck me the most. These young women were crying out for intelligent role models in the media with less emphasis on looks. They look to the media and don't see themselves; instead they see a projected stereotype they frankly don't want.
However that stereotype also comes from the fashion industry and I did notice their role in the media was notably absent in this documentary.
By the end of the film I wanted an Australian version of Miss Representation. We don't need to have the 'where is our first female president' discussion. We're already there, what we need to talk about is how she is being measured and portrayed compared to her male predecessors.
We also need to talk about our own screen culture. It is great to see an upsurge in Australian drama on our TVs, but where are the strong female protagonists? Do we really need another mini series about Kerry Packer, the misogynist boss? And don't start me on Offspring.
What about our feature films? Successful ones are so few and far between, and as I write this Kath & Kimberella and The Sapphires are sitting at number 4 and 6 at the box office. My prediction is Kath & Kimberella will gross higher than The Sapphires in no time at all, what will that say?
So what comes next? Write angry blogs and letters to our politicians.
No, it can be simpler than that. I subscribe to Miss Representation's emails and they encourage me to create change in small ways. Like this Friday is Fresh Face Friday, a day you don't wear make up. Then without your slap on engage in conversations with people about why women wear make up and the impact it has on how we see ourselves. Now that is something small I can do.
In a bigger picture, Miss Representation has inspired me to find ways I can teach young women to be storytellers. Teach them what I know about filmmaking and the media so they can pick up a pen or camera and write their stories, women's stories. And if I do that enough times, we just may be the majority in this industry.
Published on: Sep 22, 2012, Discordia