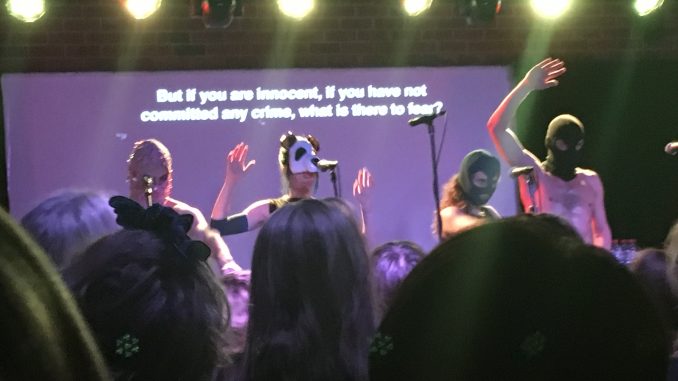 There are two myths about Pussy Riot. One they are a band and two there were no men in them.
Pussy Riot: Riot Days debunks both those myths in one.
Pussy Riot began are a collective of protestors – a movement – and by chance some of them played instruments. At their show of the Adelaide Fringe on Wednesday February 27 it was the World Premiere where all four women of Pussy Riot performed together as a band.
They were accompanied on stage by two male members.
It was a historical night delivered by a group of political protestors who made history.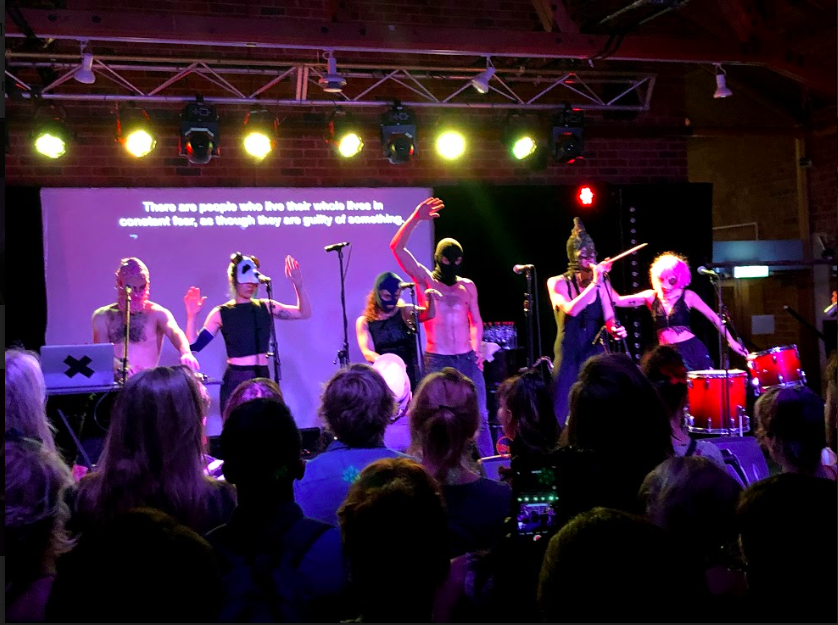 Set to a trip punk funk score exerts of Maria Alyokhina's book Riot Days were recited. These exerts patched together the story of Pussy Riots protest in a Moscow Orthodox Church and the incarceration of four of its members.
It went through their reasoning, their planning, their execution and ultimate arrest. Maria was separated from the other women and spent most of her time in solitary confinement. She went on a hunger strike and even took the prison to the European High Court for violating her human rights.
As Maria writes – and tells us – I protest where ever I can.
The score to the storytelling relays the frenetic energy of this time. The pace goes hand in hand with what is happening and movement on stage moves between dance, protesting and interchanging of positions.
This is the kind of show you are mesmerised by. As the group sing and retell their story in Russian the translation is projected behind them with their moving image. Sometimes it was hard to see all the words and phrases but for me that did not matter.
It was more about their anger and conviction.
While they did not share the entire book I did not miss any of the story. The score was fresh and raw all the while keeping you moving as they moved through the narrative.
I came away not only realising how fortunate I am to be in country where I can protest against the government – and if I don't damage property – will not get arrested. But also how amazingly brazen and brave these women were for taking their protest to the altar of the Russian Orthodox Church.
I have Maria's book and she kindly signed it for me at the end of the show. The freedom she has now to do this would have been worlds away as she sat in solitary confinement.
It really is a show not to be missed.