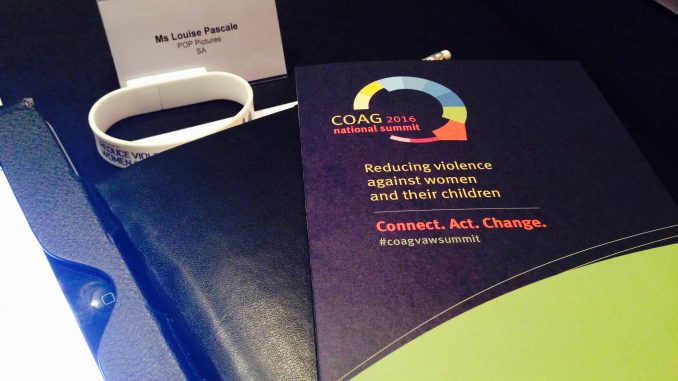 Tomorrow America will vote for a new President. Last time they did this they re-elected their a black President. This time they are going for extremes.
Optimistically they could be voting for their first female President or Donald Trump. So much has been written and said about this election and I really don't want to repeat any of it here.
What I do want to do is reflect on the words of our Prime Minister recently at the COAG's inaugural Violence Against Women and Children Summit. He said;
Not all disrespect towards women results in violence. But all violence against women starts with disrespect.
It's the catchphrase from the Federal Government's Stop It At the Start campaign. It's a powerful campaign that can be confronting for some.
What it depicts is what happens if we don't show young boys – and girls – what disrespect looks like and how it can manifest into violence as adults.
Here in Australia we saw our own disrespect of our first female Prime Minister play out quite publicly. Now in the United States of America we are watching the same thing. Neither Julia Gillard or Hilary Clinton are shrinking violets and they have and continue to stand up to it.
But what troubles me is if we can not show respect for women who hold powerful positions then what hope do we have of ever truly finding respect for women everywhere.
At the COAG Summit the Third National Action Plan for the nation's strategy to combat violence against women and children was released.
It's main highlights are;
Prevention and early intervention.
Aboriginal and Torres Strait Islander women and their children.
Greater support and choice.
Sexual violence.
Responding to children living with violence.
Keeping perpetrators accountable across all systems.
We are now at the halfway point of the National Plan to Reduce Violence against Women and their Children 2010-2022.
So how are we faring?
Here is what they said in the Third Action Plan;
Despite our efforts, violence against women continues. In 2015, 80 women were murdered in Australia with approximately three-quarters killed by a current or former partner. This national shame continues into 2016. In addition to the pain and devastation for individuals, families and communities, who have lost loved ones, KPMG estimated the economic cost of violence against women and their children in 2015–16 to be between $22 billion and $26 billion.
Sadly when we are now comfortable in saying that one woman a week dies at the hand of an intimate partner it's clear we are not there yet.