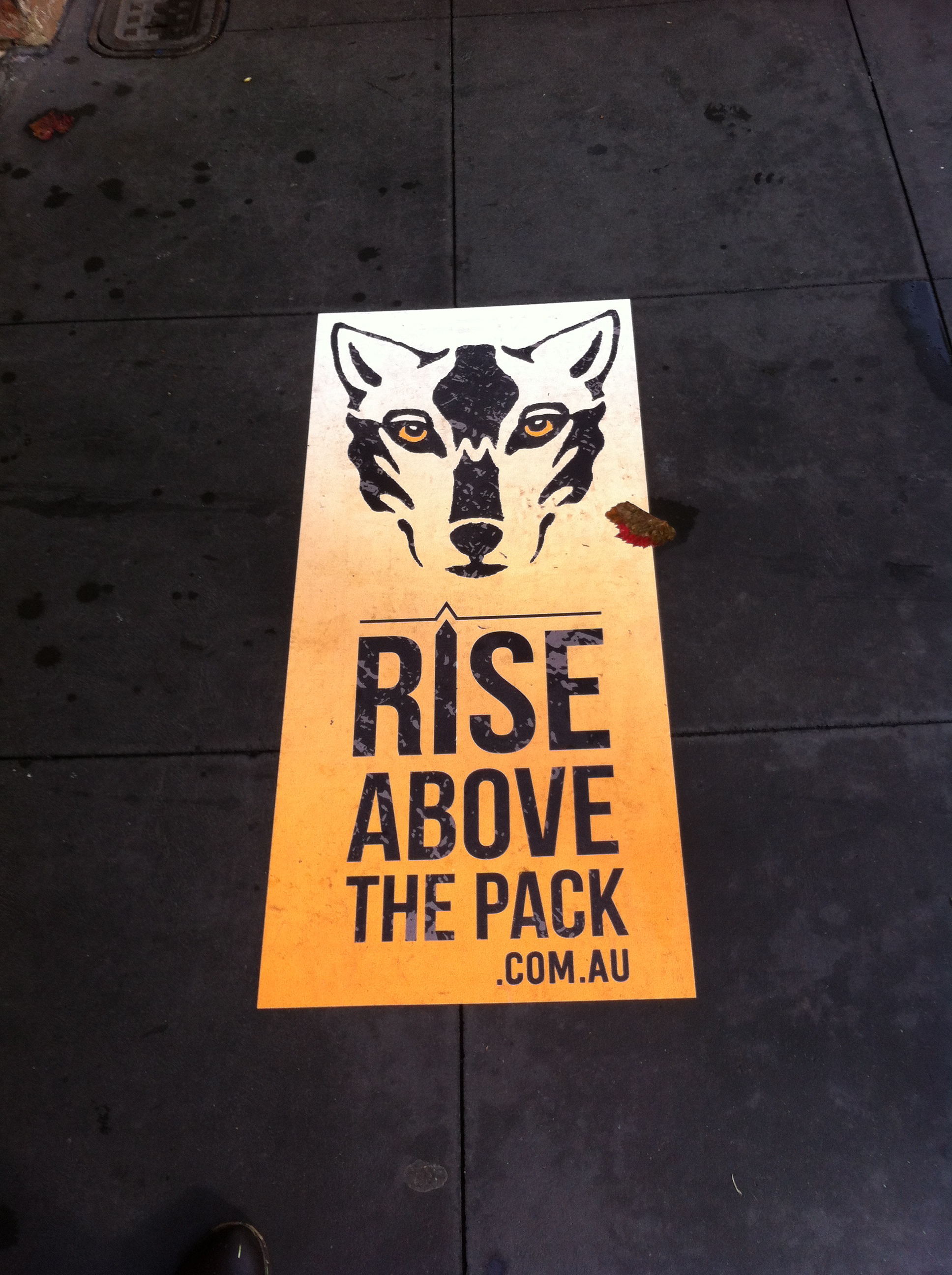 We are inundated with advertising and marketing every hour of every day. Some of it smart some of it very average, sadly the latter seems to dominate the landscape. So when a smart campaign comes along you have to give credit where credit is due.
For many Adelaideans who travel through the city they would have spotted these smart looking wolves on the footpath asking us to 'rise above the pack'. Well if you look a little deeper you'll fine  it is actually asking men to step up.
Rise Above the Pack is Adelaide's YWCA's latest campaign which addresses violence against women. As a community safety campaign it has two aims.
First, re-frame the conversation about violence against women away from victim-blaming and back to the perpetrator. Secondly, it is encouraging positive bystander intervention.
The decals on the footpath are one way of doing this, there are also posters in pubs, on billboards and EcoCaddy's. Then there's the coasters and postcards. But aside from the 'collateral' that goes with such a campaign there's the faces that front it.
From Premiere Jay Weatherill to the humble store owner in the City's East End. Men from varying backgrounds have stood up and called on their sons and mates to not tolerate violence against women. Whether in the street, at a sporting match or at home – they all have one common theme, violence against women is not on.
Of all the messages that were shared, for me the most touching was Opposition Leader Steven Marshall's message to his son.  It is simple and relevant to all our sons.
He writes;
Dear Charlie,
I'm so proud of the man you've become – you're a thoughtful son and a caring brother.
It's important that the values you've grown up with remain with you throughout your adult life.
Never tolerate verbal or physical abuse of women amongst your friends or people you know. If you hear or see domestic violence, never stay silent.
Love Dad
Indeed, we should all never stay silent.