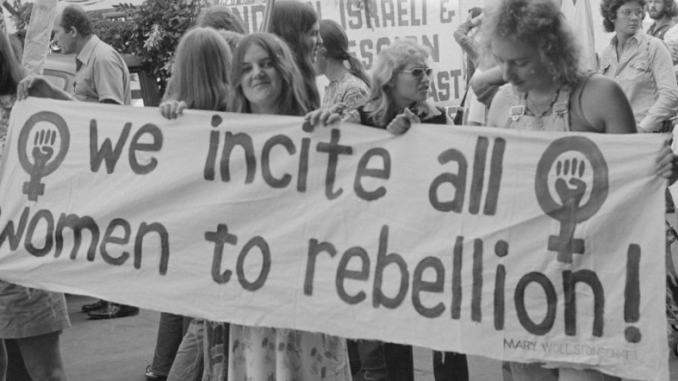 Documentary Review
Brazen Hussies is the film we need right now. It is a timely reminder that while we continue to  struggle for women's rights, there was a generation of women who had it much harder – and we are just picking up the next chapter.
While this documentary is the Australian history of the Women's Liberation Movement that propelled us out of a domestic nightmare it is also a reminder that we still do not have a lot of what they were fighting for. This was a generation of women who were conditioned to be someone's wife or mother where their place in the world was in a domestic and family setting. This step by step account takes us through a chronological history of how Australian women broke free of that destiny. 
And as you would expect it was not an easy ride. Early on we discover the obvious 'left of politics' did not take them seriously and the fight for equal pay was one they fought hard with the unions to take up. It also becomes very clear that the Australian Women's Liberation Movement of the 70s was an educated white woman's movement. Intersectionality was not on the agenda until decades later.
I found this aspect surprising as the movement began with what they called 'consciousness raising', the sharing of stories and experiences in women only groups which helped them forge an understanding of what this movement meant for each of them – individually and collectively. The historical footage of these sessions, the awakenings and stories were revealing however it did not take me long to notice the absence of Aboriginal, ethnic and disabled women. Lesbians had very much embedded themselves in the movement, however their experiences and needs from the movement also sat outside its core.
While later in the film there was mention of the experiences of most intersectional women I did notice that women living with a disability were completely absent.
However the historical account of Women's Liberation in Australia was interesting and well documented. From ASIO files to the fight of single mothers, piece by piece you could see how limited women's rights were and the how threatening the fight for them became. Yet two hours was not enough to go through all this.
To give a full and proper understanding on how women's rights to a life free of violence, or the ability to keep their child and raise them on their own down to equal pay to equal work needed time and more perspectives. There were aspects of this story that felt hurried or injected because it was part of a timeline. The risk here was making them feel like token pieces of history without seeing the full impact for women today.
With this in mind it was clear that many rights women take for granted now did not even exist and if it weren't for the women of the Women's Liberation Movement we would still be fighting for them. The 70s was a time where shifts in the world changed fast and it was quite mind-blowing to think all this movement had achieved in short amount of time.
Yet by the end of the film you realise how much further we have to go and how the fight is far from over. This is an important film for every young Australian woman to see, for her to understand how the fight for rights she has today began and in some ways to see how things have not progressed and even gone back.
Director and Writer Catherine Dwyer did a great job pulling these women together and re-creating a timeline that was jammed pack. A lot of change happened in a short space of time and the stories and characters were great. Yet it was obvious that Australia's most famous feminist Germaine Greer was notably absent.
Regardless, this generation of women were Brazen Hussies. They were fearless, liberated, angry and determined. It was a great film to watch and see how much we owe them for what we have – but how much we owe them to not become complacent and to continue the fight.