It would be naive to think that #MeToo would bypass the Fringe this year. But I'm not going to talk about what goes in those beer gardens or when it's mixed with motorsports. I'm going to talk about #MeToo on stage and it coming in the form of Socially Unacceptable a one woman show by Laura Desmond that unpacks a time in her life where alcohol, sex and consent collided.
In a series of short monologues Laura takes us on a ride where sexual harassment turns to assault and back again. Many of us know this time as our sexual adolescence, that time when you are young, sex is liberating and often mixed with a bit of partying. For Laura it was her days staying in a College while studying at Uni. There she has on and off again relationships, mates who turn in to partners and then go back to being mates.
During this time and throughout these stories we watch Laura, stripped bare. She is modestly before us in her underwear and giving us the raw details. Alcohol is somewhere in all of this and that's a deliberate choice Laura has made to force us the audience to reflect on the victim blaming that goes with all of this.
It must be what she wore.
It's because she was drunk.
She never said no.
It's how Laura went there that appeals to me most. Standing in front us in her black underwear, sipping a beer she portrays through her monologues the pyramid at the heart of #MeToo.  Tracey Spicer recently described it as the following in the Financial Review;
"The bottom is made up of the people who through jokes, innuendo and bad behaviour, allow a sexist culture to thrive. Above them are those who turn a blind eye to sexual harassment, while higher still are the perpetrators and at the very top are the predators."
The #MeToo movement is just like this show. It is a mesh of stories that take us through varying degrees of sexual assaults and harassment. Ironically Laura wrote this show before #MeToo hit the mainstream. She wrote it over a year ago to address the behaviour of one man who had assaulted a woman in the same way he assaulted her.
In an email to me Laura said;
"This show is cathartic, yes, but it is damn hard. To get up every night and retell five stories of sexual assault is damn hard. And so damn necessary."
Every time a woman recounts any assault or harassment it is hard. To do it night after night in the hope your art will change lives would be even harder.
And if anything that is what worries me about this work.
Laura's stories are obviously about consent, power, control and regrets. 
It is the regrets part that troubles me. There's no denying Laura made some pretty poor decisions when it comes to men, and she'll be the first to say it. But have we advanced this #MeToo conversation far enough to explore regret and consent? Or that grey consent where the words 'no' may not have been said, but then neither had 'yes'?
There are a few things we definitely know from #MeToo. Firstly, there are far more Me Too's than there are Me Not's. Sexual harassment, objectification and assaults are far too common with women and we have had enough. We also know that #MeToo has confused many men because as boys they saw a world where treating women this way was ok and now it's not.
What it has definitely shown us is that we are only at the start of unpacking this for both men and women. This is where Socially Unacceptable feeds in to this important conversation.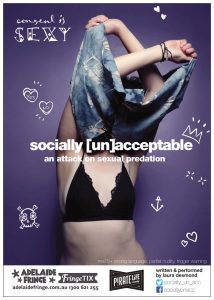 I came away from Laura's monologue not saddened by what I heard but saddened that people will leave that performance focusing on her behaviour and not the men she was involved with. This has nothing to do with Laura, her performance or the format of this show. This purely lies at the heart of what our real issue is now. #MeToo is not about a problem women have, but a problem men have.
Socially Unacceptable is playing at the 2018 Adelaide Fringe until March 11.