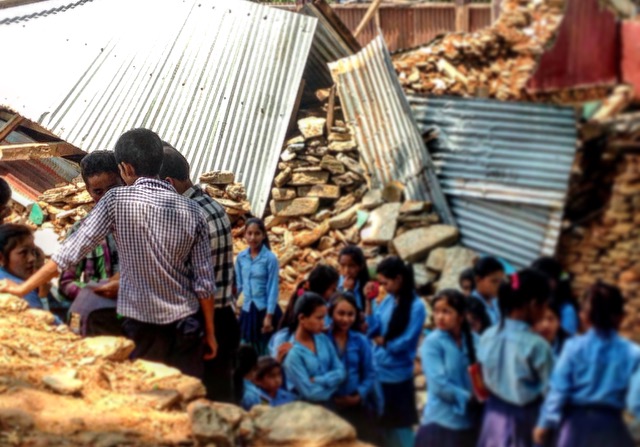 Once the media leave a crisis, whether by war or natural disaster, does that mean it is over? 
Far from it. The devastation of these disasters impact on people's lives forever and humanitarian aid agencies set in place processes for people to rebuild. But for some aid agencies it is more than just trying to get communities and countries up and running again.
Oxfam has a gender focus on all their work. This means they are considering the impact on women and children when working in country. Here is their update on what is happening for them in earthquake stricken Nepal.
"Despite significant work to ensure the safety of earthquake survivors in Nepal, many women are living in fear of a secondary threat of abuse, three months on from the disaster, Oxfam said.
Research undertaken by Oxfam in Dhading district, west of Kathmandu, has found women and adolescent girls feel at risk of physical and sexual abuse in overcrowded shelters, where there is often no privacy or solid walls. Communal toilets and unlit areas were also identified as unsafe areas.
Speaking on the three month anniversary of the April 25 earthquake, Oxfam in Nepal Country Director Cecilia Keizer said the concerns of vulnerable women must be urgently addressed. 
"Women are living in fear of physical abuse in temporary shelters. After living through two massive earthquakes, this situation is only compounding their trauma. Women's safety and security concerns must be the top priority for the government and aid organisations," Ms Keizer said.
Oxfam and its partners in Nepal have delivered essential aid, including emergency shelters, hygiene kits, clean water, food and sanitation facilities, to more than 320,000 people in seven of the districts worst-affected by the earthquake. The international aid agency aims to reach 400,000 people by the end of August.
In many of the worst-affected districts, multiple families are living outdoors under tarpaulins or structures made from metal sheets. Poor access to health services and clean water is creating a health risk, especially for pregnant women.
Oxfam Australia Chief Executive Dr Helen Szoke said the situation was particularly worrying for single women – often widows and divorcees – who were commonly isolated within their communities.
"These women get little support from their communities to clear debris and build more permanent shelters," Dr Szoke said.
"They also find it harder to access loans and compensation without the backing of a male guarantor. UN Women estimates that there are approximately 318,000 female-headed households in the 13 worst-affected districts of Nepal."
Oxfam has been talking with affected communities in rural areas to ensure women's needs are being heard and placed at the centre of the earthquake response. So far this has involved distributing gender-sensitive hygiene kits and building separate toilet blocks for women and girls, and ensuring they are safe to use. Oxfam has also been providing counseling, and advice on maintaining hygiene to prevent diseases through radio programs.
Lily Thapa, Executive Director of Oxfam's partner Women for Human Rights (WHR), said with the help of technical and financial support from Oxfam, WHR was constructing women's to provide safe places for women to share and learn about risks.
"Through the project, World Human Rights is also providing psychosocial support and assistance to acquire legal documents such as Earthquake ID cards and citizenship certificates. We are also providing medical and other referral services and helping women to participate in cash-for-work schemes, as well as recovery and reconstruction programs."
Oxfam has put gender issues at the core of its work in all areas of its earthquake response program, including: water and sanitation, food security and livelihoods, and shelter.
The Government of Nepal estimates more than eight million people were affected by the 7.8 magnitude earthquake on April 25, A second major quake of 7.3 magnitude struck on May 12, and there have been more than 350 aftershocks since the initial earthquake."