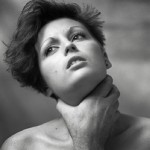 When a couple of surfers are killed by sharks, the Western Australian government sets up shark nets.
When a couple of blokes are king hit outside a nightclub in Kings Cross the New South Wales government introduces stringent lock out laws.
When 14 women are murdered in just seven weeks due to domestic violence the Federal government …………
I know I'm not the first to say this but it's a point we can't say enough.
Women are not dying by the hands of a current or past partner they are being murdered. This is homicide. I know Australia loves to break reacords, but this is a sad statistic we have now doubled.
Where is our national outcry?
Recently I interviewed South Australian Premier Jay Weatherill who has taken on combating domestic violence as a personal crusade. With an overhaul of legal services and policing he is changing laws in the state so that perpetrators are removed from the home.
The aim is to stop women fleeing with their children and becoming homeless. When asked what he wants from the Federal Government he was clear, he wants the Prime Minister to stand up and say to violent men, hitting women is not on.
Simple message really. But while we sit and listen to another speech on national security women across the country will experience physical, emotional, social and financial abuse. Two of them will be murdered within the next week.
So while I believe we need to keep our community safe, we know for a fact that we are not losing two Australians a week to terrorism. Yet he turns a blind eye.
Domestic violence is gendered violence and there is evidence that goes back decades to prove it. It prohibits women from experiencing basic human rights and freedom. When we do this we erode their participation in our society and communities.
We can talk endlessly about pay gaps, diminished participation in the workforce and sexist behaviour. But that is what it is, just talk.
Time for talking is over.
Anyone that says one woman a week dies is now wrong. If we keep going at this rate we will experience over 100 homicides by domestic violence this year.
What makes this even harder to comprehend is just five weeks ago we named Rosie Batty as our Australian of the Year for her tireless work fighting this form of violence. Since then ten women have been murdered.
What can we do? This week I signed a petition asking for the removal of our Prime Minister for Women, I spent a day in crisis service and shared their story. But again, this is just talk.
We need to lobby our politicians to make this the number one issue facing Australians. Demand that women's services be quarantined from cuts, demand harsher laws and that our police officers remove men from homes and stop women being forced to flee.
Enough is more than enough.
This article was first published on Discordia.