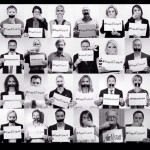 The day after Peter Greste's seven-year sentence was handed down I watched Balibo. I had recorded it some weeks ago when it was on SBS on a Saturday night. It really brought home to me in a graphic way the risks Australian journalists take as foreign correspondents.
It also reminded me how being an Australian journalist and citizen means nothing in some countries, especially in times of conflict.
Back in March this year Mona Elthaway, an Egyptian-American freelance journalist and commentator was on QandA. When talking about Egypt and their judicial system she referred to a case where a judge ordered the death sentence for 529 people after only two sessions in court.
"We don't have a jury system in Egypt," she said. "So by no stretch of the imagination did they have a free and fair trial. I don't care what group they belong to. They can belong to Satan worshippers for all I care. Nobody deserves to have a trial like that."
She went on to talk about the incoming President Field Marshall Abdul Fattah el-Sisi and their military regime.
"We want a very, very clear denunciation of what happens in Egypt, because we're trying – we're trying very hard to fight the military regime under incredible odds," she implored. "There is no justice in Egypt. There is no fair trial in Egypt. And what you saw happen, unfortunately, is a result of that, that this one judge thought he could get away with that. Hopefully he won't because the world, I hope, is paying attention."
Was Australia paying attention?
The same day Elthaway was on Australian television condemning the Egyptian courts Greste and his two colleagues had been denied bail. They had now been held in custody for three months.
QandA, a forum for which I am sure will have plenty to say about Greste's sentence next week was silent that evening in March. Greste's name was not mentioned once. However journalists were well aware of his name the MEAA was posting regular updates about his arrest and trial in their bulletins.
Like Balibo, it felt like this was happening to some other journalists in some other country and only other journalists cared about it.