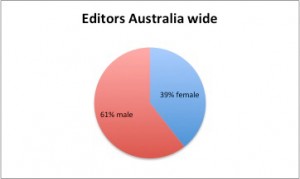 As I write this, Lisa Wilkinson's Andrew Olle Lecture is playing in my ears. Not since 1997 has a female journalist delivered the lecture and it couldn't be timelier.  That same week Women In Media (WIM) also launched putting gender in the media back on the agenda.
And this time it was women in the commercial sector who were leading the charge, something else that was long overdue. On this year's International Women's Day New Matilda released a report card on Women in the Media. While none of it was a real surprise it proved how out of balance the commercial sector is.
It noted that; "The public media are far more gender balanced than the private media."
When I interviewed Emma Alberici recently she felt that women in the media were making strides. A natural reaction when you are in a workplace where you see women in top-level positions. Of course you would think progress is being made. However this is far from the reality for many women in the media.
Creating balance is the focus of WIM and it does so through mentoring early to mid career journalists.  As Georgie Dent wrote on Women's Agenda, it is time to create a "girls club" to rival the "boys club". An idea I do agree with, however when I read the New Matilda report card on gender in the media I couldn't help but feel we need to make strong alliances with the boys club too.
Moving beyond them and us we need to work on strategies to co-op the male executives. We need them to take responsibility for the promotion of female journalists to key editorial and executive roles.
As WIM patron Caroline Jones says this is; "not designed to be anti-men, far from it. We are just seeking a level playing field."
However we also need to take responsibility for the actions we do and do not take. Every time a female journalist walks in to a newsroom she needs to assess how her behavior is condoning the boys club, and look at how she is stopping the misrepresentation of women in the news.
It is hard – I acknowledge that. It can make you look like a 'trouble maker' and even place your own job in jeopardy, but complacency is what is stopping us from making real change.